Please click our social media sites to keep you updated.
Art Exhibition

The children exhibited their wonderful pieces of art yesterday. The standard
of work produced was phenomenal! Thank you for supporting your children by
attending the exhibition and purchasing their artwork. If you were unable to
attend on the day but would like to buy your child's creation, please find
attached a letter with an order form which you can complete and return to
school.
Celebrating the Queen's Jubilee
Key Stage 1 Palm Sunday Assembly
On Friday, the children in Years 1 and 2 helped to prepare us for Holy Week with an outstanding Palm Sunday assembly. Our children never fail to impress and astound me with their talent and reverence. Thank you to our brilliant families for supporting their children so well.
Thursday was World Book Day. The children's costumes were wonderful and they loved explaining why they had chosen that particular character from their book. Together with the engaging reading activities that took place during the day, we hope to have inspired a love of reading.
Thank you to BBC Newsround presenter Martin Dougan for visiting St Kentigern's today. Martin spoke to Years 4, 5 and 6 about their 'Dreams and Goals', as part of their current PSHE topic. The children, the staff and Chester had a great time.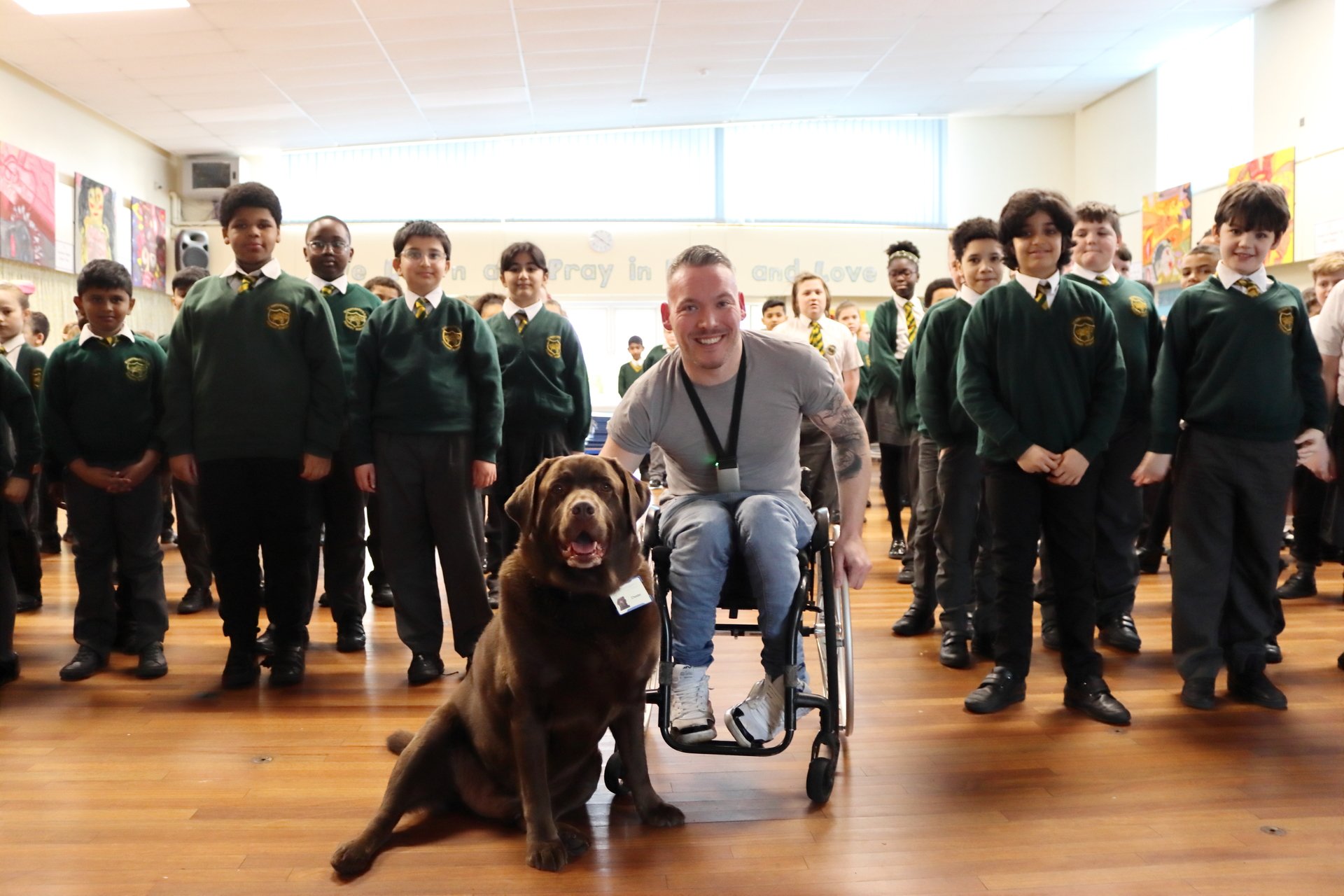 Welcome to St.Kentigern's video tour
Crowning of Mary
Today, the Year 3 children, under the guidance of the GIFT team, participated in the wonderful celebration of the Crowning of Mary. The spirituality of the children, together with their beautiful singing, made the occasion very special. We would like to thank Fr. Michael for joining us and leading our celebration.
St. Kentigern's in the Manchester Evening News
To access the School Performance Tables published by the Secretary of State on the Department for Education's Website please click here
Head's Welcome
Welcome to St. Kentigern's R.C.Primary School. Our school and parish are very special. Serving the families and children of Fallowfield, in the Diocese of Salford, we are a diverse school community, enriched by a broad range of nationalities and cultures. We use every opportunity to celebrate our differences and similarities and to develop our particular talents. We are a welcoming and friendly school and we view our parents as partners in ensuring the very best provision for our children.
Our work is built around the teaching of Jesus Christ. Love of one another and of God is central to all we do. We want every child to achieve so we work hard to provide a curriculum which helps all children to shine. OFSTED inspectors recognised this when they visited our school and judged it to be outstanding in all areas.
We offer a broad, balanced and progressive curriculum, enriched with purposeful experiences and the flexibility to be responsive to individual needs and interests. Our aim is to ensure the acquisition of skills, knowledge and understanding through a love of learning. We want to nurture a belief that nothing is impossible and that all barriers to learning can be overcome. Our ambition for all our children is for them to be happy, confident, caring, knowledgeable and resilient individuals, who will grow up to be inspirational adults with a wealth to contribute to our ever-changing world.
Madeline Muldoon
Head Teacher